Backstage Character Pass — Christopher Buckley
Welcome to the first in my series exploring the characters of The Faraday Files! To start, here's a little backstory and trivia about my narrator and arguable protagonist, Christopher Buckley.
The Deathsniffer's Assistant has been compared a lot to Sherlock Holmes — both favourably and unfavourably. I'm a Holmes fan, myself. The books, the Guy Ritchie movies, the modern adaptation on BBC… it's easy to think that the concept for the book came from those places. But in a case of truth being stranger than fiction. The Deathsniffer's Assistant started its long journey quite a while before the current Holmes renaissance. And the extent of my exposure to Holmesian media was my childhood favourite Disney film: The Great Mouse Detective. Did I absorb the concept of the brilliant eccentric and the staid companion from literary culture? Or do Olivia and Chris somehow not share a common ancestor with their most obvious counterparts at all? It's hard to say, but there's one thing that's certain: Chris didn't start as a Watson to Olivia's Holmes.
His origin was somewhere smaller and simpler. I knew that I wanted to write a detective style fantasy murder mystery. I've always loved the dynamic of a woman in a position of professional power over a male subordinate, so the idea of a lady detective and her male assistant came from that. And as the character of Olivia Faraday began to take shape, I realized that she could never function as a narrator. She'd be too strange and alienating.
So that's what I started with Chris. His relationship to the reader would be as narrator, and his relationship to Olivia would be as foil. So he had to be reasonable,  nonthreatening, and unassuming. He had to be as invisible a person as Olivia was remarkable.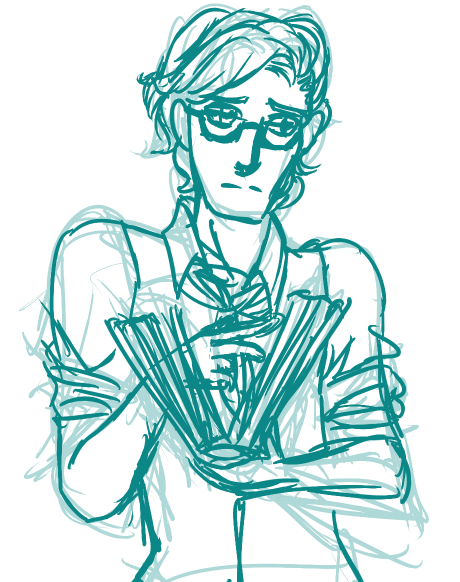 He grew from that seed. Where initially I wanted to make him more of an every-man, I found myself drawn to the concept of writing him as a more mannered, sensitive character. He didn't interest me me in his initial skin, as a simple, unassuming audience surrogate. I like writing characters who are flawed and occasionally unpleasant, so Chris evolved his snobbery, his close-mindedness, his judgemental nature and his prickliness from my being bored with a more conventionally likable protagonist.
Chris's relationships are really the cornerstone of the Faraday Files, especially his relationship with Olivia. I really enjoy writing him interacting with others. Because of my decision to have a single POV story, Chris is in every scene and his personal issues come to be the anchor the conspiracies, murders, and politics are tethered to. I knew I wanted him to be a character who could have interesting dynamics with everyone else, with all kinds of sparks and fireworks and potential for growth.
I've been really happy with the reader reaction to Chris so far. Some have pointed out that he feels like an actual orphan with grief and baggage — that's something I worked hard at achieving. Some have also mentioned that he's not your typical male fantasy protagonist, which I talked more about in this blog on the subject. Most have said that they felt for him, and pathos is really the minimum I ask for.
(Funnily, the negative feedback Chris has gotten has made me pretty happy, too. I see some saying that he's overshadowed by Olivia or that his snobbishness makes him hard to relate to, which is all stuff that I intended while writing him! It's not going to be for everyone, and that's okay.)
Sadly, I have less to say about Chris than I wish I could. My second book, The Timeseer's Gambit, delves a lot deeper into Chris's psyche than The Deathsniffer's Assistant does, and it's hard to talk about him without risking letting spoilers drop loose. I hope those of you who are fans of his will be excited to see how he develops and changes in the sequel.
So, what do you all think about my accidental Watson analogue? Any questions asked about Chris here, I'll try to answer in a Q&A later on!
Next week, Olivia Faraday!