Experience The Deathsniffer's Assistant in a New Way December 15th!
The date is coming up on the audio book release date of The Deathsniffer's Assistant!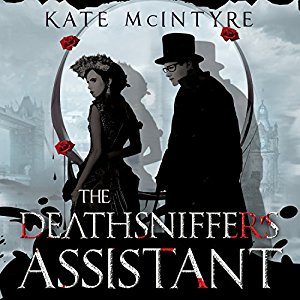 Maybe you've been meaning to check out the book and haven't been able to make time in your busy schedule. Maybe you've already read it and want to reread. Or maybe you're like me, and think of audiobooks as a form of adaptation, and just want to see TDA adapted to a new format! There are tons of reasons to pick it up in either digital or physical format!
The audiobook of The Deathsniffer's Assistant is published by Tantor Audio, performed by Romy Nordlinger, and proliferated by Audible. Here are some places you can pick it up!
Tantor's Site: You can get the book here in physical form as either an Audio CD, which can be played in most CD players, and an MP3 CD, which will not work in a base model CD player, but will contain an MP3 that you can access from a computer or MP3 CD player!
Audible Site: If you'd rather go digital, you can get the audiobook off Audible! It can be purchased with either credits, if you have an Audible membership, or normal money! Through the audible app, you can listen to the book on your phone or computer easily.
Amazon: Finally, you can buy it in either physical or digital via Amazon! The physical version has Amazon Prime attached to it, so if you're a Prime member, you can have it at your house in two days! Amazon also has the awesome functionality where, if you've already bought the Kindle edition of the book, you can get the audible version for only four dollars!
People are already asking me the big question, of course, which is — will The Timeseer's Gambit also be out, and if so, when? And what about books three and four? The short answer is, it depends! Tantor wants to see how the first one sells before it commits to the sequels. The best way to make sure you get to hear Olivia's first official serial killer case is to pick up the first one and give it a listen!